Travelling Smart…Travelling in Style
"Working with Lucia has been a fantastic experience. My wardrobe is now more streamline, manageable and makes business travel so easy. Lucia's hand selected pieces are also the most lovely conversation starters - quite amazing the compliments you get! We all know that people notice what you wear and so getting professional help in ensuring you are the best you can be makes total sense - I just wish I had done this earlier in my career! "
NB Managing Director in Financial Services
For today's woman in business, having a wardrobe that is versatile, appropriate, stylish, and functional for business travel (think packing, airports, airplanes, meetings…) is a must.
With some planning and advice (mine, of course!), my clients are not only thrilled but relieved at how easy it is to pack when we have developed 'modules' that include just a few pieces but create numerous stunning looks appropriate for every scenario and occasion during their business trip.
Now that summer is over, what better time than September to start planning for your business travel and new season apparel? There's no question that always looking your professional best is a priority.
WHY?
Your first "business card" is how you present yourself! There is a strong connection between looking good/appropriate and looking capable, and this translates into a positive impression not only on your clients but, your business partners and colleagues as well. As my client was told by her boss:

"It's such a pleasure to travel with you always looking so smart!"

This confirmation and favourable vote of confidence could very well lead to exciting possibilities.

You never know who you could meet in the airport lounge or hotel lobby. You never know who you will be seated next to in meetings or during lunches or dinners. And you never know if you will have enough time to transition from airport to meeting to dinner or banquet or… So why not make the most of those opportunities?!
The challenge is how to look fresh, professional, and polished throughout? With that in mind, I have created two "mood-boards" with ideas on how to look stylish and be comfortable during your travels.
These pieces were selected as an example of a modern, smart, casual look that women of different ages could wear and feel contemporary in.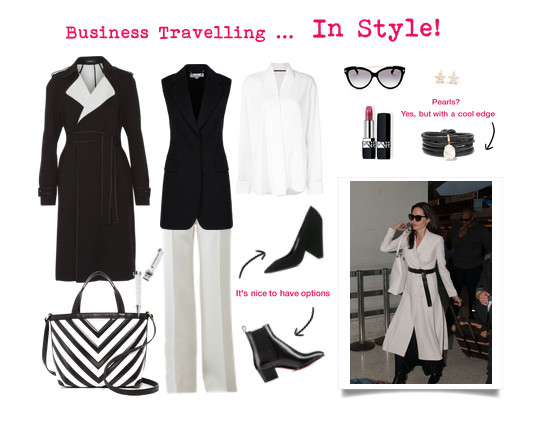 If you have limited time to get to a meeting after your flight/train arrives, just swap denim for a formal trouser. Those shown work well for most ages and body shapes. ( For those with a "pear shape", I suggest choosing bootleg cut denim and a fitted style of shirt and blazer.)
Smart Travel Basics:
The "Travelling Blazer": This is a real MUST for a proper smart casual look. I have chosen a versatile tailored jacket with a stylish flair that would work perfectly with both jeans and formal trousers. The key is to invest in one that simply looks made just for you.
Boyfriend Cut Jeans: Great for travelling because, with their loose fit, they are particularly comfortable for sitting for a few hours. The trick? Make sure they look good also on your 'back profile'.
A Very Smart Shopper: High quality, light and spacious, the perfect accessory to carry all your bits and paperwork.
Comfortable and Edgy Stuck Heels: Accessories are an easy (and fun) way to express your individuality and personality. Comfort without being boring? Why not? That's why I've chosen this embellished Gucci pair.
Comfortable Pumps: Travelling in high heels is not easy for most of us so I always search for comfortable pumps with an edgy heel so as not to compromise on the total look.
Light Travelling Coat/Trench: I usually suggest soft fabrics so it doesn't crease much and it's lighter to carry plus it will look graceful and comfortable even over a structured jacket.
Key Accessories: No outfit is complete without a couple of well selected jewels (and scarves of course!). It's like a well cooked dish without salt! Perfect accents add versatility and make a personal statement.
Your Colour Palette: While black and white is one of my favourite colour combinations, we all know that travelling in white and keeping it pristine is very challenging. For this reason, I've introduced white in a more practical way:
Smart Travel Choices:
Image isn't inborn. Leaders create it with help and are diligent to refine and maintain it.
There is enough stress in the business of business! You have enough decisions and preparations to make. And so that you can focus on your professional demands, I am here to guide and advise you on how to make your travel-wardrobe practical, effective and super stylish.
Building a travel-module might sound easy but if you really would like to signal leadership and an appropriate work presence, it requires a great deal of thinking and planning.
Are you ready to take your image to the next level? Let's talk about how we can do it together! info@luciarestani.com
Share This Article