Take the runway into work
Every season, I hear the same concern: "How can I stay cool on a hot day without looking frumpy in the office?"
 
Dressing for the summer season is never easy. Clothing is more revealing than we may be comfortable with and, although stores are full of party dresses or trendy casual pieces, if you are in search of a new outfit for work, your choices are often limited. In other words, the same old familiar suit in the same old fabrics, usually a wool base or manmade material...not so cool!
 
Finding smart pieces that are light enough to wear on a hot day or in a warm climate that can still look appropriate and flattering while making a woman feel feminine and stylish is often a real challenge.
So...what to do?
My advice to solve this dilemma is to begin your search by seeking out Italian brands first. Why? Because they are based in a hot climate, there's a preference for natural materials/textiles such as cottons, linen blends and other variations of light fabrics which are far more suitable for warmer weather.
 
However, everything is not always available in stores and, I have to admit that, it can involve a bit of a leg work to seek them out. That presents us with another dilemma. Your time! As a busy woman, you probably do not have the time or inclination to look for those perfect summer pieces. That is why, as part of my personal shopping and VIP Services, I have done the legwork for you!
What to do…
Would you love to try on selections made just for you at your convenience - time and place? It may sound too good to be true but, in fact, it is an important part of my personal shopping service. From my network of connections at many of the leading high-end department stores and niche boutiques, I will personally hand-select clothes for you and, in a relaxed atmosphere, together we can decide which will be perfect new additions to your wardrobe.
 
In addition, as part of my VIP services, I have recently started to personally select and purchase some stunning pieces from Italian niche luxury houses and new designers to offer an ad-hoc selection of exclusive Made in Italy clothing and accessories to my ladies.
This season…
Salvatore Ferragamo SS17 runaway presents a great mix of elegance and practicality for women who want a contemporary chic look. On my board, I have featured a Ferragamo indigo blue cotton dress that beautifully shapes a woman's figure. With short sleeves, it can easily be worn without a jacket while the see-through panels in San Gallo lace add a feminine touch.
 
I must say, I love this San Gallo trend which has been introduced in the collections of quite a few designers (a few are shown below). Depending on the piece and the styling, it's very wearable during the day, either casually or dressy.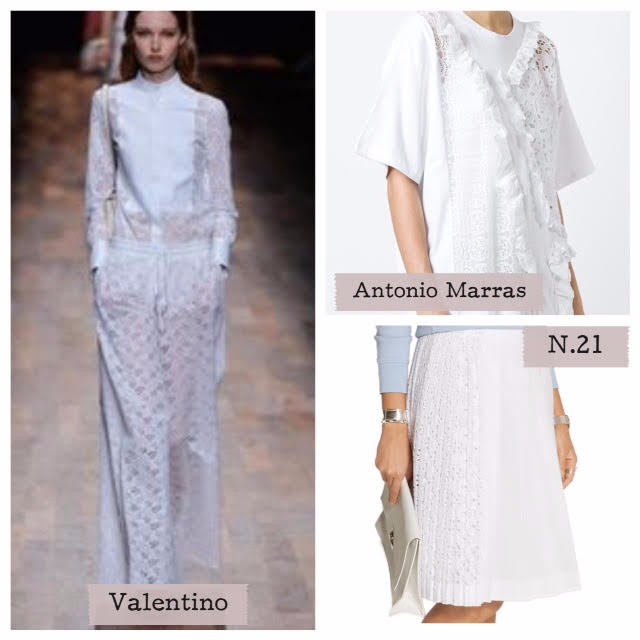 Among my Italian selections, with my working ladies in mind, a great find has been this exquisite blazer in San Gallo cotton. The super-fitted shape and see-through motif makes this versatile jacket a winning staple for a summer wardrobe.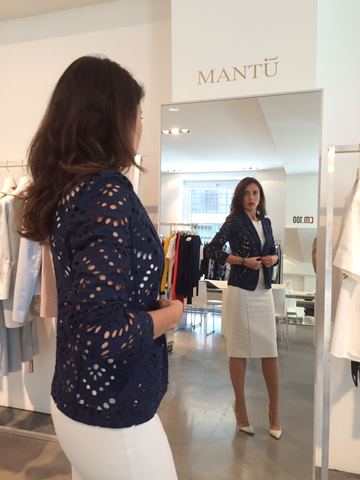 Whether worn over a simple ivory dress, from the same designer, or as a smart separate over a tailored skirt or a pair of white trousers/jeans for a more sporty outfit, it will be the perfect addition to your summer wardrobe. ( In the photo, I particularly loved trying it on with the ivory dress, also in cotton, with a lovely intricate mesh body-sculpting detail.)
Then, to complete the look ….
 
 
Accessories are such an important complement to your look; they can enhance or ruin an outfit. Making careful choices for those additions to your wardrobe are important.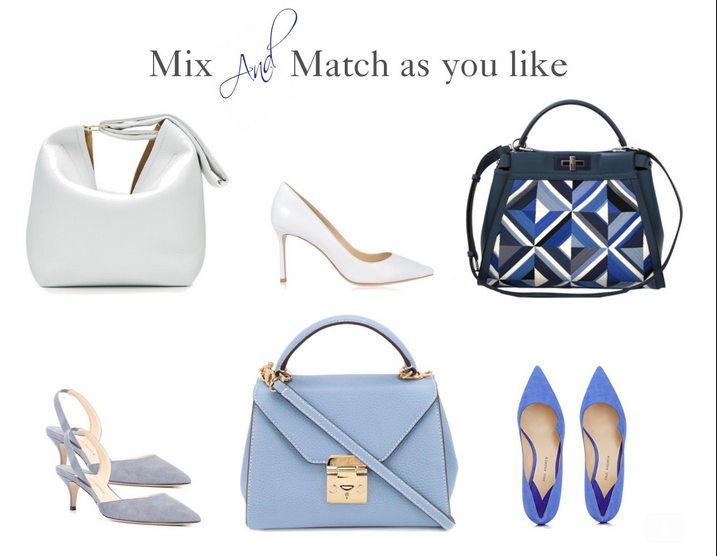 One of the trademarks of my personal shopping service is that my clients really appreciate how they can combine the carefully chosen selections and, because of their versatility, enjoy many different looks with fewer pieces for an effective and yet inspiring closet.
 
Another highlight is that, like those pieces shown on my board, all items can be mixed and matched. For example, each pair of shoes each could be worn with any of the bags so you can have fun creating your look every day.  And, of course, always choosing shoes that are comfortable, attractive, and that make our legs look slender at the same time? No, it is not a myth ... just a bit of a task!
 
Welcome summer …
 
If your summer working wardrobe needs refreshing and, like most working women today, you are struggling with finding the time to shop and/or how to create the best look for you, together we can transform and achieve your personal style for summer and every season…
 
And something new…
 
Do you like to stay one step ahead of the seasonal fashion trends? Watch for my new VIP BUYING SERVICE where I will be organizing/pre-buying collections directly from Italy for the upcoming season…
Whether it be de-cluttering, re-fitting, re-styling or just a special occasion, my professional and personalized Bespoke Style Transformation Programme is the answer to your style and image concerns.
"Everybody knows that it is important to dress smartly and appropriately to make a difference at work. Whether they get it right, that's another matter.
With Lucia, not only do I get the best pieces for my shape and role but I feel confident and personally energised."
 
A.M., London Lawyer
Share This Article