Showcase It Made In Italy Series - Panel One
Ciao everyone!
I hope you're having a good week and are enjoying this Indian Summer!
I've been super busy with the launch of Showcase It, my new on-demand shopping platform all about 100% Made in Italy niche products for a true Italian shopping experience! 
Showcase It is born out of my passion for supporting small and artisan Italian brands, who are focused on the authenticity of their product, rather than investing in marketing.
It aims to open the door to consumers who want to shop more consciously, without sacrificing luxury, quality and durability and have a taste for sophistication.
On Wednesday, we hosted the first Made in Italy Panel Talks and were joined by special guests Cav. Dot Alessandro Belluzzo, the President of the Italian Chamber of Commerce for the UK, and Sennait Ghebreab, Head of Fashion Business at Istituto Marangoni London.
We touched on several topics, all from our very different professional backgrounds. From an overview of the concept to the importance of supporting niche brands in order to preserve craftsmanship and heritage, all whilst adapting to change in both a modern and post-COVID Fashion Industry. 
We started by talking about what Made in Italy means to each of us and we all agreed that it means everything! From food to art to fashion, Made in Italy is defined by traditions, generations of craftsmanship and the Italian's passion, guaranteeing expertly made products, a sustainable process and durability.
Sennait commented on the value and power that the statement 'Made in..' has for a brand, as it communicates value and high standards. This is also why non-Italian labels aspire to be, or are, Made in Italy. 
I also believe that it is about beauty and expression and sharing the Italian essence and dream with consumers! 
Made in Italy is the core of Showcase It and is so important to me that consumers can grasp a real understanding of what's behind it and also the significance of hearing other professional views.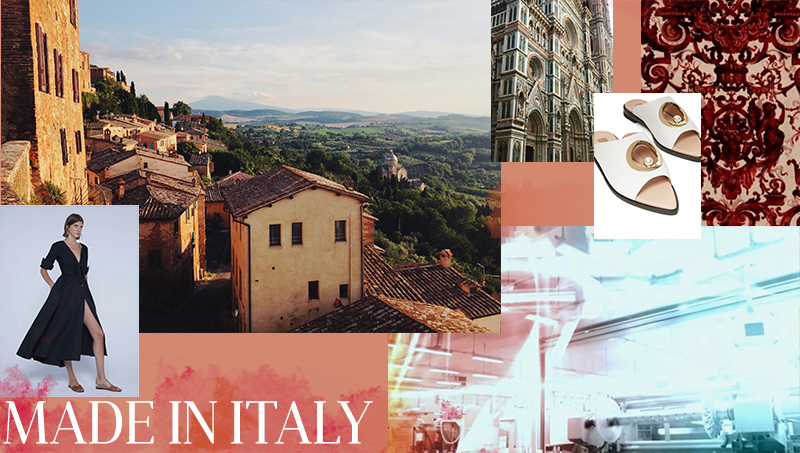 We also spoke about how heritage and craftmanship, authentic Italian values, are translated into today's Fashion. As Fashion is so fluid and adaptable, it is hard for these values to remain absolute, but as consumers become more conscious and reflective of what they are buying, they begin to focus more on quality rather than quantity, which goes hand in hand with Made in Italy! 
We discussed how emerging brands are introducing new trends and techniques while staying true to the Italian heritage. President Alessandro mentioned that it is possible to be both modern and Made in Italy, which for consumers really proves that they can support traditions without compromising on quality, design, and be environmentally friendly at the same time.
In these strange new times, it is impossible not to mention how the Italian legacy will be preserved post-COVID! This topic is super important to me as I begin this new journey and I'm happy to see the industry take a slower, more conscious approach to fashion, which has always been my philosophy. President Alessandro and Sennait both mentioned that there is certainly room to combine tradition with more modern technologies and concepts, which will only help preserve legacy and ensure that the Italian fashion industry remains ahead of the game. 
And from this, consumers play a key role in their shopping decisions. Only a shift towards conscious shopping, focused on the quality and source of goods, can make a difference in safeguarding the production process that cares about people and the environment.
Finally, we discussed whether Made in Italy is defined by the territory of production or the people who make it. 
We all agreed that territory and people go hand in hand when it comes to production, as they are the ingredients of an authentic recipe. Authenticity is important to the Italian culture and also modern-day consumers, who value this more and more. 
We all agreed that we must pay more attention to the source of our products, whether it's the food we eat or the clothes we wear. Also, President Alessandro highlighted the importance of combining modern technology with a conscious effort towards the preservation of tradition, on which we can't cut corners. I completely support this idea and Sennait added that providing authenticity is a great strategy for brands post-COVID! 
When I search for products for Showcase It, I always look for 100% traceability, from the raw material all the way through the process, so my clients know exactly where their products are coming from. 
If you joined us, grazie! And we hope you enjoyed it as much as we did! 
If you weren't able to attend, don't worry, click here to watch the highlights of the full panel on showcaseitbylr.com - now! I can't wait to share this Made in Italy journey with all of you.
Make sure you're following us at @showcaseitbylr, so you're first to hear more information on the next Showcase It panel. 
We hope to see you there!
Ciao for now,
Lucia x
Share This Article