Finding Your Fashionable Feet In Your New Lifestyle
Ciao ladies,
It's been a while and I've been missing you all! It's been a demanding few months, hasn't it? As for everyone, this has been a time for reflection, and I've embraced my introspective journey to go back to my core values and what my work is truly about… so, meet Showcase It, my new multidimensional on-demand shopping platform rooted in Italian-ness! You can check it out here!
But for now, autumn in the air, and we are adapting to a new lifestyle, that is challenging us both personally and professionally. Talking to you ladies in business, I hear you are struggling to find your sense of self in your new normal, whether that's continuing to work from home or starting to head back into the office. Believe me, you are not alone!
I've been thinking of new ways to help you feel refreshed and ready for the new season, whatever you're doing. Your new normal should be exciting and I want you to take this as an opportunity to look and feel your absolute best! How you ask? I believe there are three key aspects to focus on to ensure you're feeling fantastic and oozing confidence in every aspect of your life…
Positive Attitude
Over the past few months, the line between our professional and personal lives has become pretty blurry and it's very hard separating our time. I think it's important to set boundaries between work and play and that starts with taking a little time for yourself each day.
Having a good mindset starts with caring for our bodies. Looking after and listening to what your body needs should always come first, whether that's some exercise first thing in the morning or even treating yourself to an extra 5 minutes in bed! There's no guilt in understanding what your body truly needs and you must make time for it, even if you feel like you don't have the time!
Also, make a conscious effort to check your posture, especially if you're sat at your desk all day! Not only will you exude confidence, but your body will thank you for it (and your clothes will look even better!)
Style
Over lockdown, lots of us slipped into a more casual uniform of loungewear. But being at home shouldn't be an excuse to get lazy when it comes to your style. It's important to remember how much your clothes impact your mood! Remaining stylish and comfortable goes hand in hand with a positive attitude when tackling your lifestyle's new normal. Whether you are still working from home or beginning to head back into the office, you must always prioritise looking your personal and professional best.
Autumn/Winter is the perfect time to indulge in the combination of luxe and comfort. Consider all the ways you can keep comfortable whilst showing your best self in whatever situation. Perhaps a cosy sweater in a luxurious fabric? Or adding a pop of colour or a statement necklace to brighten both your look and your mood. With my styling advice and Italian buying services (make sure to check out Showcase It!) I can help you incorporate unique, quality Italian pieces that will not only totally transform your wardrobe but will have you looking and feeling confident and stylish in no time!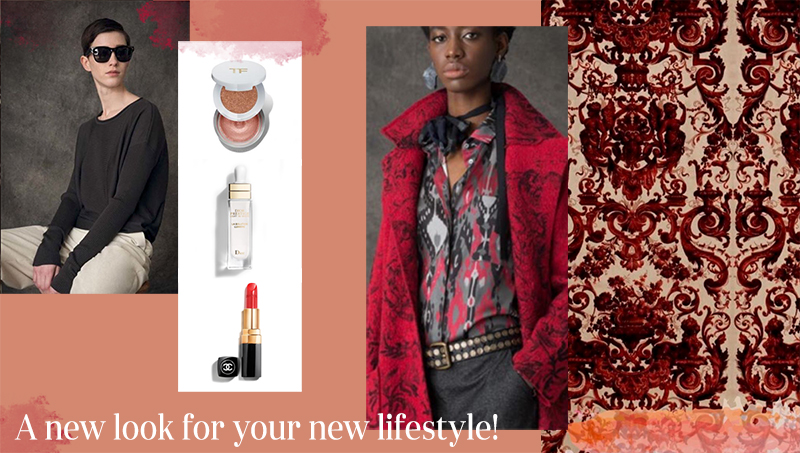 Grooming
Never underestimate the importance of grooming! Remember, if you're taking more video calls, your face is the focal point and even a small touch of make up will help you stand out.
It's been nice to give our skin a break from make up, however we mustn't become lazy with our routine and remember that looking well presented will not only make us feel more feminine but also look and feel the part!
Starting your morning with a good grooming routine will add structure to your day and make you feel much more in control. It doesn't take long and will help you feel more ready for the day, whatever it throws at you!
Also, if you're still working from home, this could be the perfect opportunity to refresh your technique or even try something new! A smoky eye, a bold red lip, or even just a slick of mascara and blusher will make you feel both playful and put together. Keep your eye out for tips on your grooming routine coming your way…
Don't misjudge the power of looking your best! If you have any concerns about your post-lockdown look, or want to find out how to transform your wardrobe into something that makes you feel elegant and uber confident and fit your new lifestyle, check out my services or simply get in touch with me at lucia@luciarestani.com
Until next time!
Lucia x
Share This Article